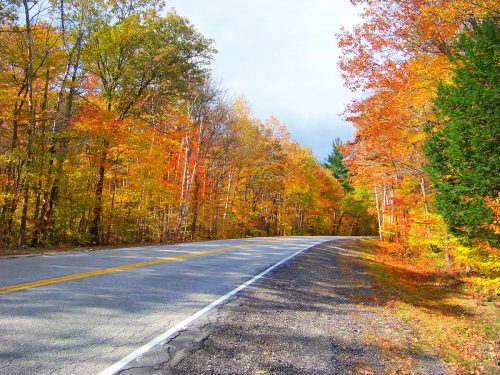 The best time to see the fall foliage on the Kancamagus Highway depends on the weather mostly. Not just the weather in the Fall, but the previous summer weather can also have an impact on both the timing of the fall foliage, the brilliance of the colors, and also the length peak fall foliage lasts.
Fall foliage on the Kancamagus, the surrounding regions, and most of New England is by far some of the best and most brilliant colors anywhere in the world. People come from many different countries each year to see the spectacular show mother nature puts on.
If you are trying to plan a vacation or trip to New Hampshire and want to make sure you're here for the peak fall foliage season unfortunately there isn't an exact date we can give you. Since the fall foliage season is also a fairly busy season here in New Hampshire you will need to plan your trip in advance to be sure you can reserve your NH accommodations for your trip.
The best time to see fall foliage is usually around Columbus Day weekend. This will give you the best possible chance of being here for peak foliage season. The good news is that even if you miss the peak fall foliage on the Kancamagus you will still be able to see peak fall foliage in other areas on the state around that time. In the far northern areas of NH fall foliage tends to peak a little sooner, while the Monadnock, Seacoast, and southern NH the fall foliage will peak a little later. Read more about fall foliage on the Kancamagus
---
---
---
---
---