The wildlife that can be found along the Kancamagus Highway region are Moose, Deer, Bears, and a lot of other smaller animals. Many people come to the Kancamagus Highway hoping to see a Moose, so we have provided some moose viewing advice…
When is the Best Time to See a Moose on the Kancamagus?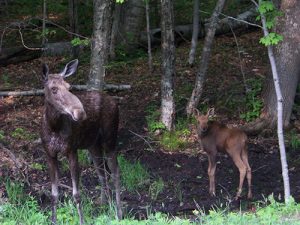 Moose are more frequently seen in the early morning hours or around sunset. Moose can be seen at any time during the day or night though. Please be careful while driving on the Kancamagus Highway as moose can be very dark in color and unlike Deer, the eyes of the Moose do not reflect light from headlights, making these enormous animals even more dangerous to drivers. Never attempt to chase a moose or any animal with your vehicle. Moose are generally very gentle but can charge your vehicle if it feels threatened. If there are baby Moose nearby, use extra caution as a mother Moose will be slightly more aggressive if you get too close.
80% of all traffic fatalities that involve wildlife in New Hampshire are attributed to Moose.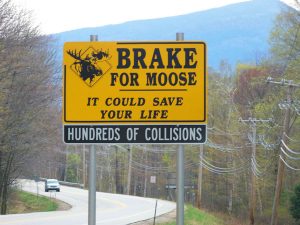 Deer, Bears and a lot of other animals are also more frequent in the early morning and sunset hours. Please use caution when driving on the Kancamagus Highway in NH.
---
---
---
---
---