There is one cabin rental available on the Kancamagus Highway called Radeke Cabin, Radeke Cabin is owned by the US Forestry Service. It was purchased from the University of New Hampshire in 1969.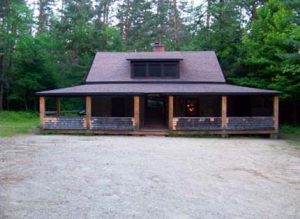 Radeke Cabin is located just 150 feet from the Kancamagus highway and 14 miles West of the Saco Ranger Station.
Radeke Cabin has 3 bedrooms with wooden bunk beds that can sleep up to 10 people. Radeke Cabin comes with a wood stove and firewood.
Cabin rental rates are $40/day plus $9 reservation fee. Reservations for Radeke Cabin can be made by calling 1-877-444-6777.
Quick Facts:
-Dogs are allowed at Radeke Cabin but it must be leashed
-There is an outhouse separate from the cabin
-Radeke Cabin is limited to 10 people
-You must carry out your own garbage
-Cabin is rented often so cleaning needs to be done by renters
-Radeke Cabin is heated by a woodstove, firewood provided
-You must collect your own wood for the outdoor fire pit (local wood only).
-You must bring all your own supplies and bedding
Nearby Rentals: Since there is only one cabin for rent on the Kancamagus Highway here is a link to other NH cabin rentals, some of which are near the Kancamagus Highway: NH Cabin Rentals
---
---
---
---
---