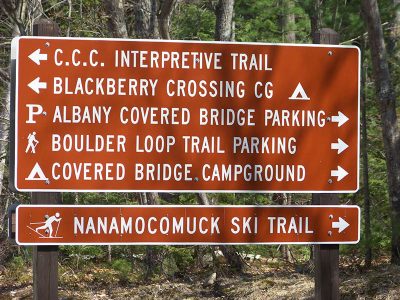 Boulder Loop hiking trail is approximately 3 miles long and is rated as moderately difficulty with a few steep areas. Elevation gain is 908 feet. You should plan on approximately 3 hours to complete the loop with taking in the views. Be sure not to miss "The View" – a side trail that offers some nice views.
Boulder Loop Trail makes a circle shaped loop in the area of many large boulders and returns you back to the starting point either way you decide to take the trail. Many hikers recommend hiking this loop counter-clockwise. You may this hiking trail to be a bit busier than others as it is usually well traveled. The Boulder Loop Trail parking and trailhead is located at the Albany Covered Bridge Parking Lot. The Trailhead GPS Coordinates are: N44° 00.291 | W071° 14.472
Have you hiked Boulder Loop Trail? Post information and photos of your hike below!
---
---
---
---
---