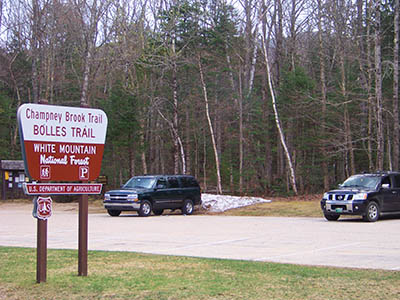 Champney Brook Trail & Bolles Trail
The Champney Brook trail is rated as easy, but there are a couple tougher spots with rocks and steep inclines. This is usually a good hike with kids who are good with hiking and dogs. Champney Brook Trail can be quite busy at times and is used for both hiking and snowshoeing. Champney Brook Trail is 7.5 miles long with an elevation gain of 2,250 feet. Leashed pets are allowed. The trail also connects to Middle Sister Trail which takes you over Three Sisters and Blue Mountain. It also connects to Piper Trail which takes you to the base of Mt. Chocorua and heads South.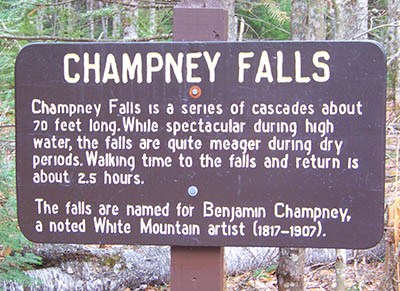 Bolles Trail and the Champney Falls – Bolles – Chocorua Loop
This loop is rated as Difficult. Bolles Trail quickly splits from the Champney Brook Trail just as you are leaving the Kancamagus trailhead and takes you south from the Kanc. and east on Bee Line Trail, east on Brook Trail, east on Liberty Trail to Mount Chocorua, then after Mount Chocorua go north on Piper Trail, and finally north onto Champney Falls Trail back to the Kancamagus trailhead which completes the Champney Falls Loop. Read More About Champney Falls. The parking lot for these trails is located on the East end of the Kancamagus Highway. The GPS Coordinates for the parking area are: N43° 59.398 | W071° 17.950 (elevation – 1,285′)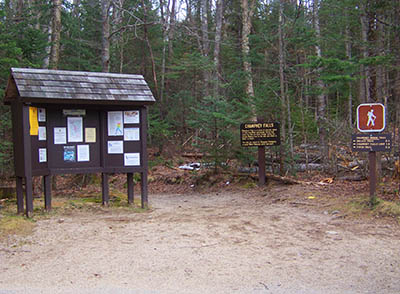 Have you hiked Champney Brook Trail, Bolles Trail, or the Chocorua Loop? Post information and photos of your hike below!
---
---
---
---
---