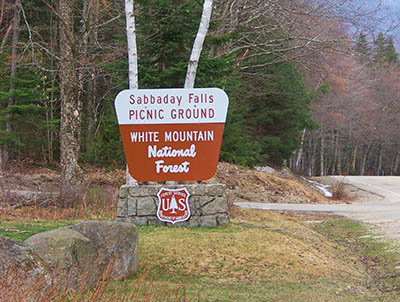 Sabbaday Brook Trail is one of the busiest trails along the Kancamagus Highway due to Sabbaday Falls being such a popular attraction. But most of this is limited to being the trailhead and the falls. If you plan an early hike and get there before the tourists arrive, be sure to spend a few minutes taking on the views of the falls while its not busy.
Sabbaday Brook Trail passes Sabbaday Falls and continues South to the Mt. Tripyramid Trail and the 4,110′ summit of Mt. Tripyramid.
Sabbaday Brook Trail is rated as moderate in difficulty with many water crossings. The last mile or so the elevation of the hike changes quickly and is very steep
If you are planning on reaching the summit of Mt. Tripyramid you should plan on about 6-7 hours of hiking and just over 10 miles. During the hike you will gain almost 3,000 feet in elevation.
Sabbaday Brook Trailhead on the Kancamagus GPS coordinates are: N43° 59.838 | W071° 23.568 (elevation – 1,343′). At this location there is a bathroom and picnic areas as well as educational postings about Sabbaday Falls.
Have you hiked Sabbaday Brook Trail? Post information and photos of your hike below!