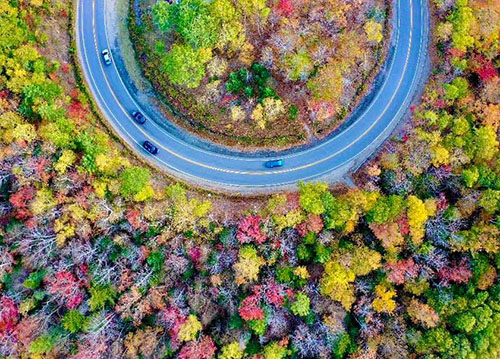 The hairpin turn on the Kancamagus Highway has been an iconic part of the highway for many years. Lots of people are concerned about the turn when they're planning their Kancamagus Highway trip. The fact is that the turn, while yes it is a significant hairpin turn, is safe when traveled at or below the posted speed limit. Do not take this turn too fast! Many people have been caught off guard as to just how sharp this turn really is. But, if you are going the proper speed and you see the warning sign prior so you expect it, you will have no issues navigating around the hairpin turn. The Kancamagus is a place where there is a lot of head turning views, so instead of attempting to take in the views while you're driving, take the time to pull off the road for viewing and photos. Paying attention to the road is extremely important and can make the difference in your experience, as well as your safety when navigating the hairpin turn.
The hairpin turn is also safe for RVs. Again, speed and paying attention is everything, so keep your speeds down. The bigger the rig you're driving, the slower you will want to go. Tractor trailers use the Kancamagus Highway fairly frequently when going from Lincoln NH to Conway NH, or vise-versa and have no problems making the turn.
The hairpin turn is well designed, while very sharp it serves it's purpose to make the incline less steep as you ascend up to Kancamagus Pass, Aka the "Height of Land", and back down.
Hairpin turn drone photo by Anwar Shamim
---
---
---
---
---