What does Kancamagus mean? The meaning of the word Kancamagus is actually a a Native American name of the Grandson of Passaconaway. Kancamagus succeeded his uncle Wonalancet about 1684 as the third and final Sagamon of the Penacook Confederacy. He was known as "The Fearless One".
Kancamagus once ruled what is now known as southern New Hampshire. He fought fearlessly against the English Settlers that were taking over the land.
In 1691, Kancamagus moved to northern New Hampshire and possibly as far north as Quebec Canada.
So some may say that Kancamagus means "The Fearless One", which is correct, but Kancamagus was a Native American that resided in the area with his tribe.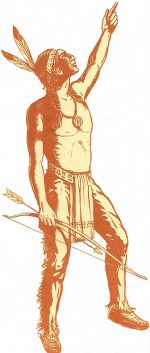 Kancamagus "The Fearless One"
---
---
---
---
---